Scrapping OTP projects can be addictive, once you make one you will want to make more. I was planning on doing mixed media on these arches, all looked good in theory but just wasn't coming together as I had pictured so went back and restarted, and this is what I eventually ended up with. Hope you all like it.
Triptych Arch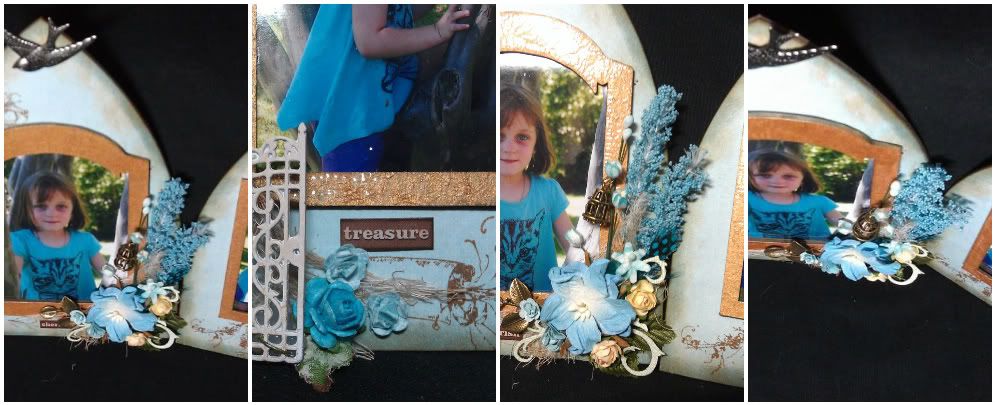 7Gypsies
Triptych Arch
Board kit
TH Distress Ink – Vintage Photo
Gold Metallic
Dabber
I chose to cover my Arches with paper but you could paint if you wish. I then sanded all edges and distress by applying TH distress inks, I also added some stamped images. Using Helmar crackle medium on the frames after they had been painted with Gold metallic dabber, gives such a nice effect (a little hard to see in the photos). The middle arch was embellished with a cluster of flowers, leaves, charms and die cut swirls. I am loving the Tim Hotlz Idea-olgy charms and added the bird in flight heading to her nest. Side arches were embellished with the wonderful Prima Shabby Chic Garden gates and tiny handmade little blossoms were added. These are very quick and easy to make – take a tiny flower punch, punch out two or three pieces, mist lightly with water and scrunch and pinch then layer, beautiful little blossoms to slip in with your bigger blooms, great as fillers! I also used some inked muslin behind the gates for a bit more of a shabby feel. Lastly I added some words.
You will find most if not all products available online at
Wild About Scrap
your one stop awesome online scrapbooking shop, pay them a visit!
Have a great scrappy day!
Sue xx