Schools back! East coast went back last week and the West started back this week. Love the Summer holiday break, so now I am looking forward to the next lot of holidays :)
Being back into a routine I might just find a bit more time for me and hopefully get to play with all the wonderful goodies that Veronica and Bridget so generously send our way. Here is a layout using more gorgeous products from my DT kit.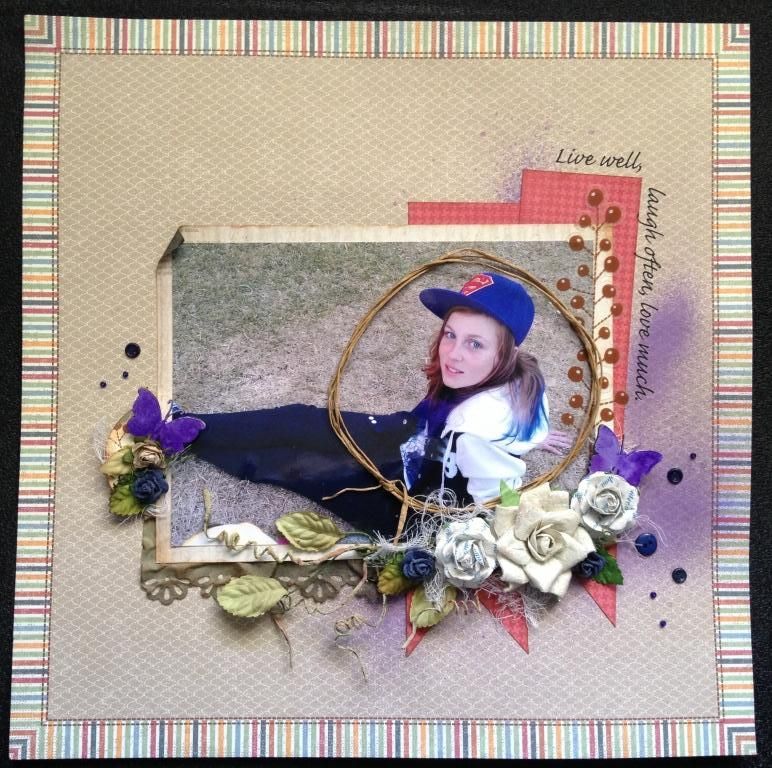 So what I am sharing with you Today is a layout of my princess, she is twelve (a tween) and hates having her photo taken lol (unless its a 'selfie' that all the kids are doing these days with their phones or ipods) I was lucky to snap this shot in October last year at the Perth Royal Show when she was having a short rest between rides in Side Show Alley. Love how she is a unique individual and choses to have purple streak and dip dyed highlights, her favourite colour.
Delving back into my generous kit from
Wild About Scrap
I used some delicious papers and clear cut shapes from Little Yellow Bicycle range. All products are available through the
Wild About Scrap
store and if something happens to be 'out of stock' just drop Veronica or Bridget an email and I am sure they can help you out or suggest a substitute product.
Taking LYB Striped Piping I misted and splashed Tatered Angels glimmer mist Fully Purple and Pop Rocks until I got the desired result. Cut two 5cm strips of LYB Crimson Houndstooth, shaped the ends to look like bunting/flags and then inked edges with TH distress ink Vintage photo (my all time favourite). Matted my 7in x 5in photo and centred it on the 12x12 sheet placing the strips to the right underneath. Took some scrap from my stash and using MS border punch, punched the edge, wet and scrunched it up and distress it then placed it under the left bottom conor of the photo. Wrapping some twine around a tin so I could get the circle shape I wanted, I placed this on the photo to highlight the focus my beautiful girl! I then placed a spray of Prima blossoms, adding extra Manor House leaves with some gauze (time to raid your first aid kit!) filling in gaps, popped dot two chipboard butterflies which had been painted first with white gesso then sprayed with glimmermist. Lastly I finished with a few scattered tiny buttons and beads and a rubon from Kaisercraft.
LYB - Acorn Hollow - Tall Trees/Striped Piping
LYB - Acorn Hollow - Toss & Tumble/Crimson Houndstooth
LYB - Acorn Hollow - Clear Cuts
Tattered Angel Glimmermist - Fully Purple & Pop Rocks
TH Distress Ink - Vintage Photo
Twine
Prima Blossom spray
Manor House leaves
WOW Chipboard Butterflies
Kaisercraft Rubons
Tiny buttons and beads
Gauze
Thanks for stopping by, hope where ever you may be you have a great weekend with either family or friends. I am going to do my best to stay cool as they are forecasting 38 and 42, so it's going to be HOT and humid, looks like it's a lazing by the pool kind of weekend :)
take care xx
Sue
xx